The Process of Ordering Fine-Art FROM US
First thing to understand; this is Fine-Art, not art that can be purchased from a "Big Box Store". The craftsmanship and artistry are completely different than anything you can buy from a retail outlet store. So we want to set the proper expectations. That being said, if you want cheap reproductions of canvas art that everyone else owns, which is made on cheap materials that are only meant to last a few years... then our Fine-Art is not for you!
We pride ourselves in providing the highest museum quality materials that are meant to last a life-time. We pride ourselves in providing unique Fine-Art pieces that will become the Focal Point to any room you chose to display it in. We don't apologize that our Fine-Art isn't the cheapest thing you could put on your wall and understand it's an investment in your décor. When you choose our Fine-Art to be displayed in your home or office... it becomes a bold statement of who you are! These images evoke the senses and become a focal point... that is why it matters.
01.
Pick The Fine Art You Want To Purchase
Once you've decided on the Fine Art you want to purchase, click on that item, and the website will guide you through seamlessly helping you choose all your options for the order. You will notice the price changes as your selections change (ie: Sizing, Medium, etc.).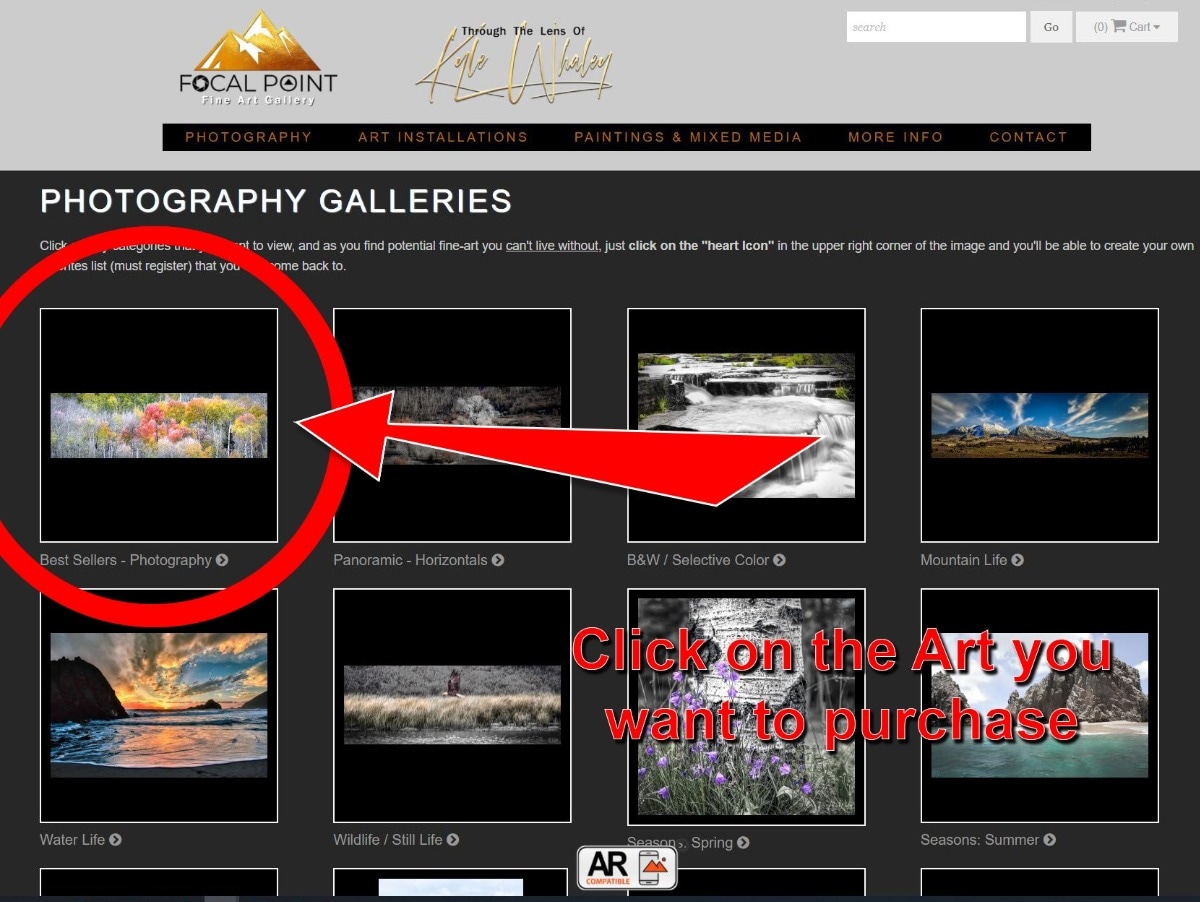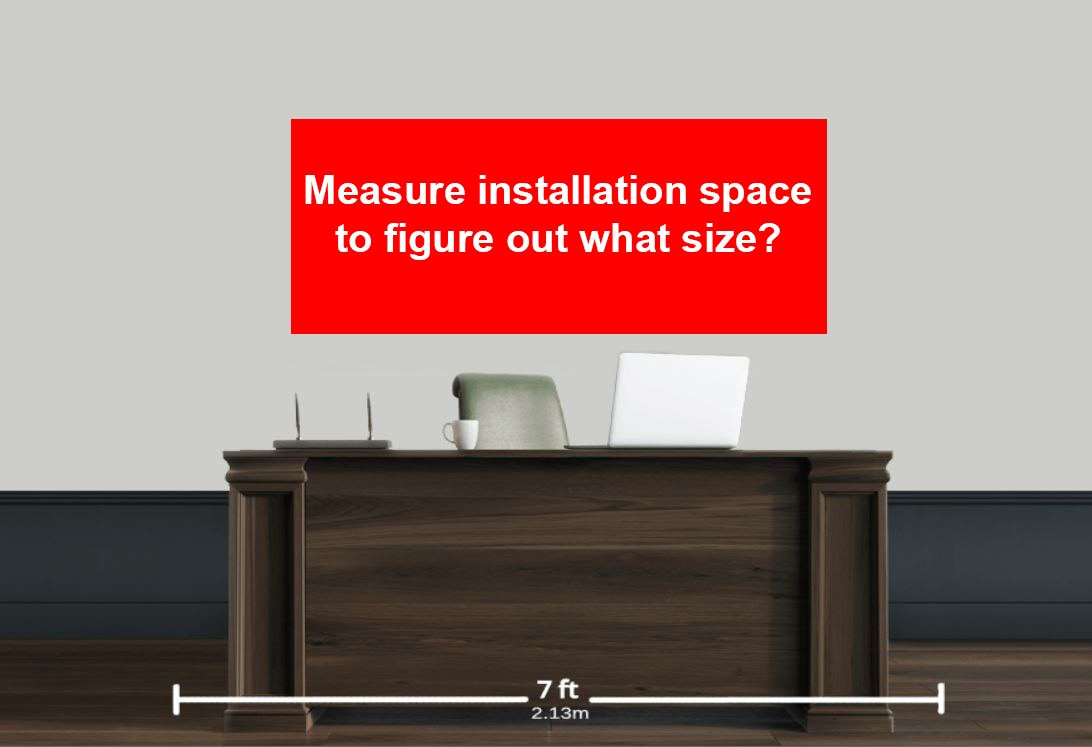 02.
Decide Final Location Of Where You Will Display The Art
Go to the area you are planning to place the Art, measure the appropriate sizing it should be, If you are ordering any Art Installations (multi-panels), our overall measurements include the negative white space between the panels, you just need to decide the coverage area.
03.
Select Your Medium (Really Important)
The Medium you choose is one of the biggest factors of how the Art will look, and can also greatly effect the pricing (some mediums cost more, some less). To assist you in this choice, click on the "?" located above each medium for a short video or explanation of what it is. The artist also indicates suggested mediums that will be suited to this specific piece... just click "see full description & specifications" link above the ordering menu.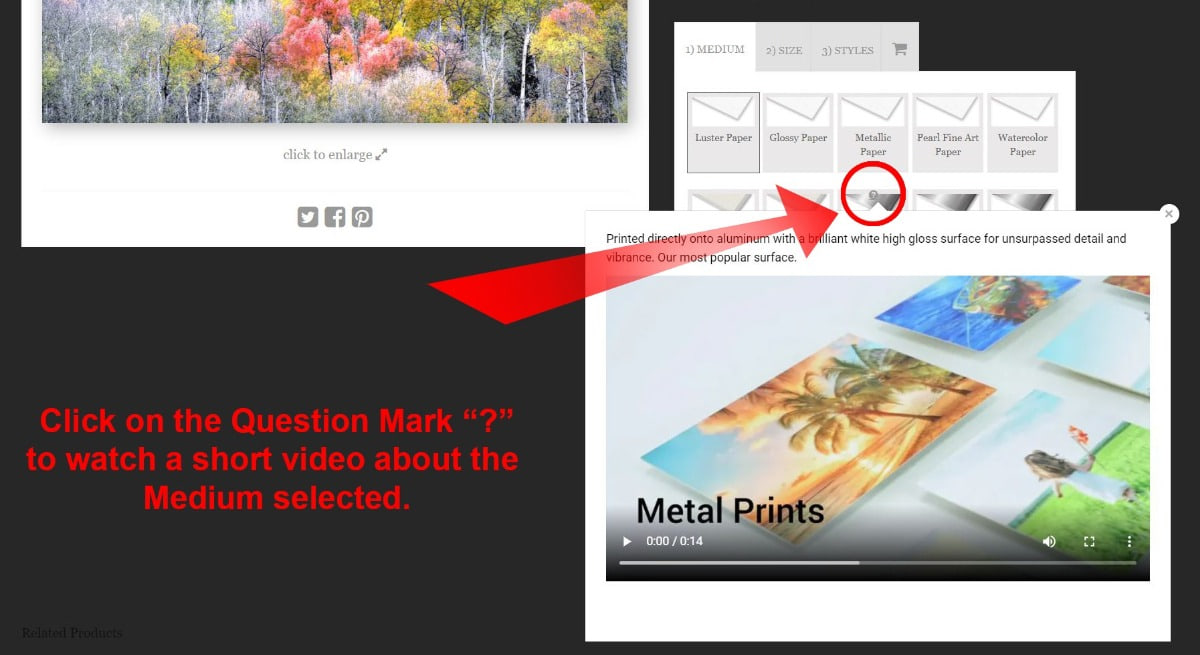 MEDIUMS TO CHOOSE FROM
There are literally hundreds of mediums we could offer, but to simplify and make sure you don't get overwhelmed... the artist has pre-selected certain mediums to choose from. We have narrowed it to 4 main categories... Paper, Canvas, Metal, and Acrylic. You will sometimes also see the option for Coasters/Greeting Cards/Calendars occasionally. Also note that Art Installations may not have as many choices.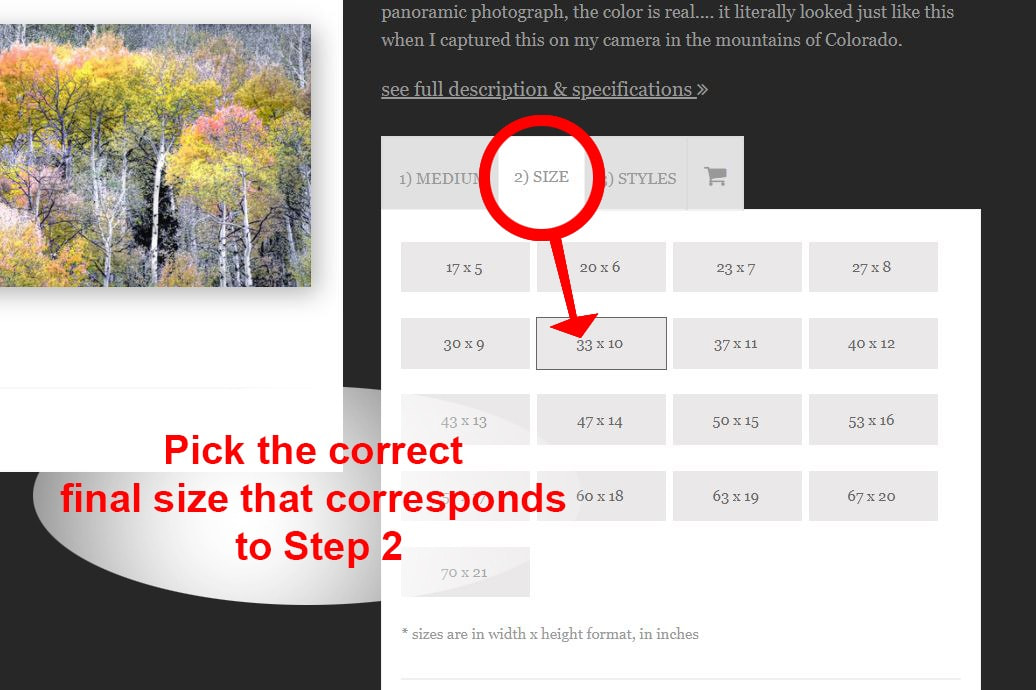 04.
Select Your Sizing
Next, just select the appropriate sizing for your Art. Refer to Step 2 when you measured your wall space. The sizing options are always proportional to the height and width of the Art piece, so only the options given are available. Note: if you plan on doing your own framing and don't want to do a custom framing order, make sure it will fit your frame dimensions. If you order the framing through us, we always customize it to the Art piece.
05.
Select Your Finishing Styles
Now pick any Finishing Styles. These options will change depending on the medium you picked. Finishing styles can be... Matting, Framing, Hanging accessories, Canvas wrapping options, etc. Click on the "?" above the Style for an explanation. Style options can change the pricing (ie: "just the Print" is less expensive than "Framed Prints").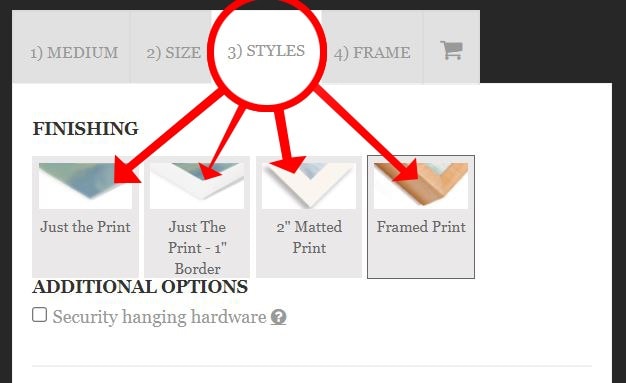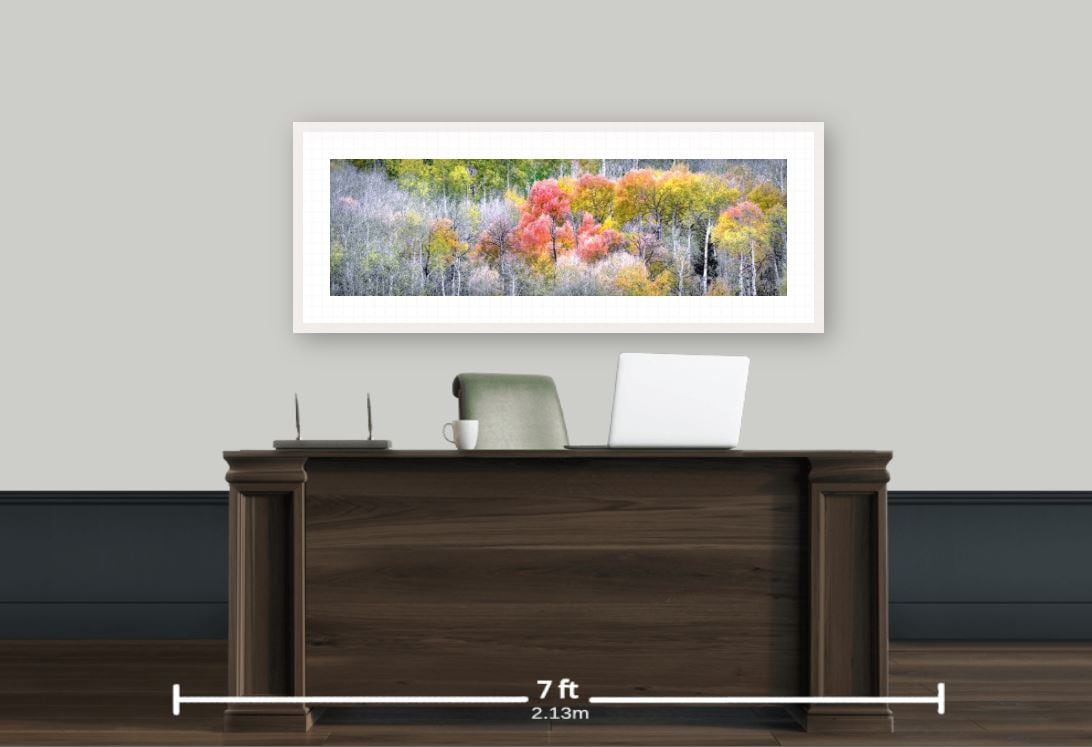 06.
Preview Your Fine Art
Our Wall Preview option allows you to see the finished Artwork in a proportionally accurate size environment. You can choose different environments (bedroom, living room, office, etc.), and it allows you to adjust the wall color to any color you want. This will give you a generic view of what to expect. If you need to see the finished Artwork in your actual environment, go to step 7 below.
07.
(Option) This Website Supports Augmented Reality to Live Preview Art
This means you can use the camera on your phone or tablet and superimpose any piece of art onto a wall inside of your home or business. (your device must have camera, and you must authorize the AR to use camera). The AR preview will also show accurate sizing on your wall. To use this feature, Just look for the "Live Preview AR" button when viewing any piece of art on this website!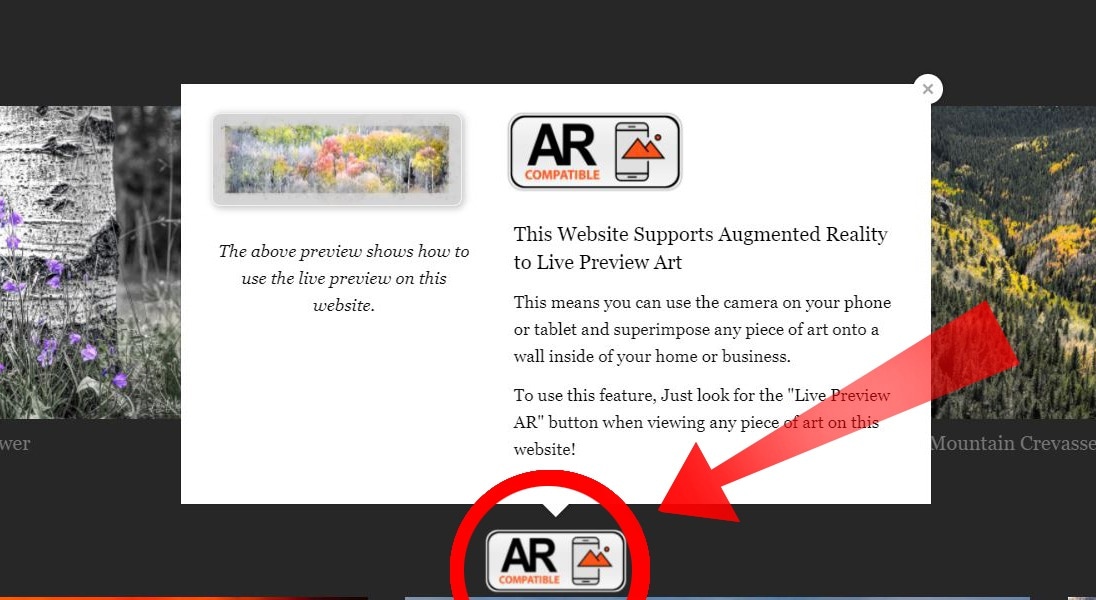 Timeline Process
SETTING THE RIGHT EXPECTATIONS
STEP ONE
As soon as you "click" submit on your order, our processing begins. Your order is sent to our Fine Art Print House and is already in cue for fulfillment. The printing process can take anywhere from 2 to 10 days depending on the type of medium chosen and workflow. [COVID DELAYS MAY TAKE LONGER DUE TO WORK RESTRICTIONS OUR VENDORS NEED TO IMPLEMENT, THANK YOU FOR UNDERSTANDING]
STEP TWO
Our Fine Art Print House will carefully package your Artwork for transit and get it out the door to the courier for delivery. We will send you tracking information at this stage so you can track your package. Depending on what shipping method you chose, will determine how quickly it arrives. Note: Large prints (over 40" require crating and usually will be shipped by freight which does take longer).
STEP THREE
On Delivery, please inspect your package for any noticeable damage (even though this is extremely rare), we want to make sure you are getting a "pristine" piece of artwork. If you notice any damage, please save all shipping materials, take photos of damage in question and contact us within 48 hours (Required - shipping companies have deadlines for claims). We will work with our vendors to make sure it gets fixed!